Shopping Cart
Your Cart is Empty
There was an error with PayPal
Click here to try again
Thank you for your business!
You should be receiving an order confirmation from Paypal shortly.
Exit Shopping Cart
Housing Solutions In Jamaica and the construction field
Windows In Your Home
Window that is applied in the correct location in your home can create a beautiful home for you and your family. Windows or window does help in many ways or function in some positives ways to improve the overall function of your home. Let us see what we can find out about windows in your home today.... 
A window is opening in the wall or roof of a building that has a frame which is fitted with glass or transparent material in a frame to let light, air, objects and allow for seeing through. A window can be a fixed or movable and is base on the application or location of the window. The types of windows used in homes or on buildings are; Fixed, Single-hung sash, Double-hung sash, Horizontal sliding sash , Casement , Awning , Hopper,Tilt and slide , Tilt and turn, Jalousie Window-louvered , Clerestory , Skylight - A roof window and bay window. These are some the major windows used in the construction field or used in architectural drawings for homes and building. Windows play a very important role in the development of a well design building, that's why many architects or designers place major emphasis on the type of window and the amount window added to a structure. 
In the matter of light or illuminating your home or structure , it is recommended by me or others to have more windows in your home to let the light in. However, if your windows/window are placed at an incorrect location of your building this can prevent daylight light from entering the structure. This is a factor that affect many homes that is design by Architects/Draftsman in our region and clients in many cases are affected by bad designs that is used for their building. A general guide for placing windows/window in a structure is to use the sun rise and sun set (the sun rise due east and set due west) to guide you in placing your windows on the structure.The building orientation can also affect lighting and also where the building is located too can affect lighting e.g if your in the city or the in country where theirs allot of trees etc.



Moving from lighting to the function of windows/window in your home. These function is easy as 1,2,3 .... well they are day-lighting ,ventilation , Aesthetic features, Act as a barrier and opening just to name a few. Window has different sizes for different location for your home and sizes can vary base on the clients request for window size.
However, their are some standard recommendation that can be used such as;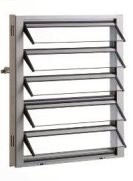 Bathrooms; 2 feet by 1 , 2 feet by 2 , 2 feet by 3 etc. Generally bathrooms window size start at 2ft. 
Living Room; 3ft by 4 feet to 6ft by 6ft. 
Bedroom; 2ft by 3 ft on the smaller side to 4 by 5 feet on the larger side and this can vary base on the size of the room. 
Dining room windows; 3ft by 4 ft to 6ft by 5 ft feet and this can vary base on the size of your area. 
Garages and Basements; 3ft to 4 ft and this also vary base on size of unit. 
Do remember these are just recommendation of sizes that can be used , a developer or architect can play with window sizes to make a space more comfortable or attractive that is base on the client request.
Please leave your comments.....
/